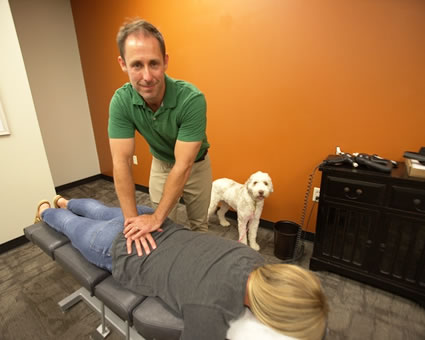 Meet Dr. Jamey Krueger
Originally hailing from Milwaukee, Wisconsin, but now calling Clatonia, Nebraska his home, Dr. Jamey Krueger is the lead physician at Lincoln and [AS]'s premier chiropractic office, Chiropractic FIRST.
Every day, I hear testimonials from patients and parents explaining how chiropractic wellness care has changed their lives, and the impact it has had on their entire family. The results we get with chiropractic even amaze me, and I make it my mission to show up committed to working my tail off, so as many families as possible get that same opportunity to live life the way we do!
EXPLORE OUR SERVICES

Managing Childhood Sickness
Growing up, I wasn't what one would call a "healthy" child. I had numerous rounds of antibiotics, steroids, asthma medications, allergy shots, and nothing worked. I was hospitalized and almost died numerous times. Later on, I became mentally unstable and had to see a psychiatrist in third grade (luckily, my mom didn't put me on any meds).
Hyperactive as a child, the only thing that calmed me down was playing Zelda on Nintendo. Although I tried taking my life on more than one occasion, luckily God protected me. Even after missing more school than I attended, I overcame the odds, graduating from high school in the top 3% of my class.
One of my goals as a child was to find a cure for allergies and asthma (I loved dogs, but was always allergic to them). I have two dogs now, and rarely have any allergy issues, and those are from poor food choices.
Early Ambitions and Dreams Fulfilled
I always wanted to be a doctor. While on vacation in Florida, my grandfather had a stroke, and I remember feeling so helpless because I couldn't do anything. After completing the advanced Certified Chiropractic Wellness Practitioner (CCWP) training, I know that will NEVER happen to me or anyone who attends the workshops and follows the advice.
My lifelong curiosity with health and wellness led me to pursue a career in medicine at the University of Wisconsin-Madison. But something happened to change my life forever. While lifting weights in college, I heard a "pop," and a lightning bolt sprinted from my low back all the way down to my foot. Rushing home, I took a hot shower, and laid down on the bed. Two hours later, the pain was so intense I couldn't even get out of bed or roll over.
I managed to get to a chiropractor, and after the first adjustment, I started to think clearer. My focus was fine-tuned, and I saw improvements in my allergies, breathing, and sleeping, and wasn't sick anymore. My headaches and back pain went away too, but it was the other areas that had the most noticeable impact on my life, and fueled the decision to become a chiropractor.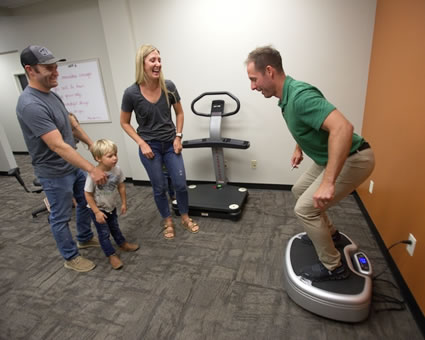 An Education in Chiropractic and More
I chose the oldest and most prestigious chiropractic school, Palmer College of Chiropractic in Davenport, Iowa, and knew instantly it was the right choice. While there, I also took extra training to get my CCWP, equipping me to handle the most difficult cases, and teach individuals how to avoid developing cancer, heart disease, diabetes, etc., and methods to reverse them if currently suffering from the condition.
I also met the love of my life at Palmer, and was selected to go on a mission trip to Morocco. I graduated with honors in 2008, earning my Doctor of Chiropractic degree.
Outside the Clinic
I met my wife Jenni at school. On our first date, I told her I was going to marry her. Nine months later, we were married on the beach in Hawaii, and each day has gotten even better. Our two children, Lylah and Quinn, are both abnormally healthy, never vaccinated, no ear infections, and only a few minor colds. The only thing infectious about them are their laughs. I am eager to share the secrets of my family's success with others.
In my personal time, I like to research nutrition and fitness to discover the truth about why some people are healthy, others are not. I also enjoy the Packers, golfing, cooking, yoga, and quiet time with God. I'm a Badger at heart, but the Huskers are growing on me.
My favorite hobby by far though is spending quality time with my family. My daughters amaze me more and more every day, and I feel so blessed to be able to spend a lot of time with them. My family and I attend Trinity United Methodist Church, right here in Lincoln.
Call Today to Book
Things that are "medically impossible" happen here all the time. Imagine what you'll do with your newfound health. Call our office today.
CONTACT US

Dr. Jamey Krueger | (402) 421-7000